Labskaus is a traditional sailors' dish.
Usually this means that surplus or waste
fish is used in it. Not so in this Northern
European classic. Salted meat is the main
ingredient. Logical, because that kept very
well on the ships.
'Lobscouse' was already known in Britain
at the beginning of the 18th century and
more specifically in the area around
Liverpool. The Scandinavian countries
each have their own version of it, ranging
from a soup to a stew.
This regional dish from Hamburg in
Germany is very typical because it uses
corned beef. This is an American import
product from after the 2nd World War. In
the meantime, it has evolved from an
emergency ration dish to a well-
established regional dish, with class!
labskous
from Hamburg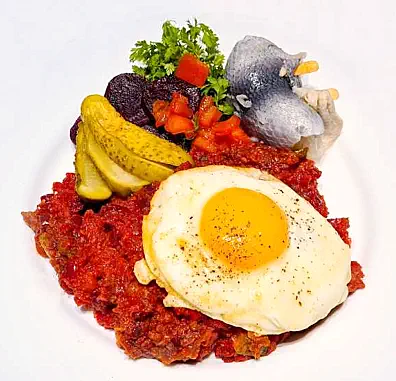 Preparing the ingredients
. Boil the crumbly
potatoes until tender, leave to evaporate and
mash with a potato masher. Chop the beetroots.
Do the same with the red onions. Dice a few
sweet and sour gherkins. Dice the corned beef.
The proportions: by weight, calculate 1/3
potatoes, 1/3 corned beef and 1/3 onions and
beetroot together. You can decide on the
quantity of garlic and gherkins and add them
later to your own taste.
Preparation
. Sauté the onions with the garlic in
a deep pan with butter. When the onions turn
glassy, add the chopped beetroot and the diced
gherkins. Leave to stew for a few minutes and
then let evaporate. Add the mashed potatoes
and mix well. The preparation should have an
uniform pink-red colour.
Season with pepper, salt, a dash of tomato
puree from a tube and white balsamic vinegar.
Garnishment.
Cut one large thick sweet-and-
sour gherkin per plate in fan shapes. Remove
the skin from a few tomatoes by immersing
them briefly in boiling water. Empty them and
cut the flesh into dice. Wash a handful of
lettuce or, as in the photo, chervil. Cut a few
mini beetroots into slices. Prepare one fried
egg per plate. Drain one rolmops per plate.
On the plate. A generous spoonful of labskous
topped with a fried egg. Finish off with a fan of
gherkin, beetroot slices, chervil or lettuce,
diced tomatoes and a rolmops.
ingredients - info
floury potatoes
cooked beetroot
red onions
garlic
corned beef
tomato puree

white balsamic
vinegar
sweet and sour
gherkins
eggs
sour herrings
butter
chervil
tomatoes
salt, pepper